Hot Foil Stamping (or Printing)
Our hot foil stamping services compliment our presage knives and press cutting services. We can hot foil stamp business cards, plastic cards, a range of personalised promotional products and corporate gifts, along with traditional items like inner soles for shoes and other leather goods.
Hot Foil Stamping, also know as Hot Foil Printing, Gold Blocking or Gold Leaf Printing, is a process using coloured foil instead of ink. Hot foil stamping can be applied to numerous flat surfaces, including card, paper, leather and plastic. The reflective quality of the foil produces stunning effects resulting in a prestigious end product.
We currently foil print on behalf of several resellers of hot foil printing, including high street printers, label printers, print brokers, sign makers, stationers, greetings card wholesalers, graphic designers, and manufacturers and distributors of promotional items.
We are very happy to advise you on the best use of hot foil stamping, so please contact us to discuss your requirements.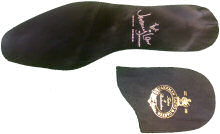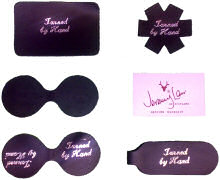 Some examples of hot foil stamping